Jump & Jack's
7102 Office Park Dr
West Chester Township, OH 45069
Pizza, Climbing tubes, inflatables…the only thing missing here is a walk-around Mascot and a ball pit.
Jump and Jack's is one of several indoor play areas in the Cincinnati area and it is one of my favorites. While it does have a few "weaknesses", I feel that the strengths more than make-up for them.
I've never experienced a "bad day of play" at Jump and Jack's and this is a place that we have visited dozens of times.
Play at Jump & Jack's (For the Little Ones)
Jump & Jacks is home to one of the best toddler play areas.
They do designate their Toddler Zone for children 2 and under – which is different from most places that seem to go 3 and under – but it is appropriate here. Just something to be aware of. The staff is good about weeding out the older rough and tumble kids to keep this safe for the crawlers and new walkers.
This toddler area is all about physical play. Large bouncing balls. Slides. Tunnels to climb through. Fidgets on the walls. Plush building blocks. Tumble blocks. Space to run.
They have a slide just perfect for a first time slider.
And guess what. It's gated. 100% enclosed. Those escape artists aren't going anywhere. Surrounding the toddler area are several tables for parents to sit and still keep an eye on the their kid. The entire toddler area + tables is enclosed with glass to separate it from the rest of Jump and Jacks. It is our favorite place to sit. It's usually quieter and less crowded than the main area.
Playing at Jump & Jack's (For the Big Kids)
Play at Jump & Jack's is equally fun for the big kids (3 to 11) and I think that is what really sets this place apart – the quality play for the bigs and the littles. A massive play structure known as Jack's Playground is the main play point. It has slides, rope obstacles, and plenty to climb and tumble over. Younger kids may enter this area with careful adult supervision. My son was around18 months the first time he played in the big kid area.
The main attraction are three racer-style slides in red, blue, and yellow. These slides can be intimidating for the smaller, more timid kids. These slides are high and fast. You can really pick up some speed depending on how slick your pants are (Adidas gym pants vs. jeans). Sitting on the chairs at the bottom of the slides – I almost wanted to have signs to judge the kids on how well they stuck their landings and their style going down the slides. I don't find these slides to be particularly dangerous – just intimidating. A soft gym mat is at the bottom and I've rarely seen a kid walk away in tears in all of our visits.
While there are several exits from the play structure  – there is only one exit from the area where the play structure is – so it's easy to keep watch that no one is wandering off.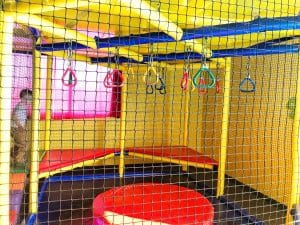 Inflatables
Inflatables are typically for Birthday Parties only on the weekend.
What Jump & Jack's does right here is that the inflatables are separated very well from the play area. No need to worry about your kid getting lost in the deflated inflatables as that area is blocked off completely (and not even near the play structure).
And some kids may not even realize that the inflatables exist – so no tears on the weekends when they can't jump.
Typically inflatables are open and included with admission on Wednesday from 5:00pm to 7:30pm and Fridays from 5:00pm to 8:30pm with hours added during school breaks. The best source of information for inflatable hours is to follow them on Facebook.  The inflatables have a height minimum of 34" and 36".
Food
Tony's Pizzeria is the food spot here at Jump & Jack's. This established does not allow outside food – but the prices aren't bad. A one topping large piece is about 13 dollars which is plenty for two adults, a preschooler and a toddler. They also have plenty of snacks such as pretzels with cheese, yogurts, carrots with ranch, etc.
If you order a pizza here, they will give you a number to take back to your table and deliver it to you. No need to stand around waiting for the pizza, policing your kids, while holding an armful of drinks figuring out how to carry everything.
If your kids are somewhat close in age..but not THAT close…
The only aspect of Jump and Jack's that is a bit difficult to navigate is if you are solo parenting with multiple kids that need to play in the separate areas.
For example – if you have a one year old and a three year old who still requires significant supervision – it is difficult to watch both well. If your one year old will play well alone – you may be able to put them in the gated area and sit in one of the tables that gives you a good eye on the bigger play structure – but it might still be tricky.
If you have a larger gap – say a one year old and a seven year old – you'll be Ok.
Below is a picture of the tables that will give you the best vantage point of both the play structure and the toddler area…
Other Tidbits
Socks required!
Adults are free. Crawlers through Age 2 are four dollars,  Kids 3 and up are 8 to 10 dollars.
The staff here is very friendly and always on top of monitoring the play area. This is one of the few indoor play areas where staff actively walks through the structure to ensure that everyone is playing nicely and safely.
The facility is always very clean.
They have several birthday party packages.
Jump & Jack's is well worth a visit for both your big kids and the little ones!