The Highfield Discovery Garden at Glenwood Gardens
10397 Springfield Pike
Cincinnati, OH 45215
This place is magic. Ever wondered what it would be like to travel through a land of fairies and gnomes? This is the place for you. It is beautiful, fun, and unique. This has been on my must visit list since my son (now 4) was a baby, but I always ended up finding something else to do instead. It's both a shame and a blessing. It's a shame because I was missing out on such a unique little treasure, however, I believe my children (almost 2 and 4) are really at the target age to enjoy this place fully.
The Highfield Discovery Garden is located in Glenwood Gardens, a Hamilton County Park. A motor vehicle permit will be required for entrance into the park. This pass is $10 dollars for county residents and $15 for those of us outside of Hamilton county. The parking pass is definitely worth the investment, however, as it allows you access to some of the other great parks around Hamilton County including Winton Woods and Sharon Woods.
There is an additional cost to enter Highfield Discovery Garden. This will be paid in the Nature Niche Gift Shop – which carries an assortment of bagged snacks (frozen novelties, chips, candies, bottled soft drinks) as well as art, magnets, t-shirts and other giftable items.
Cost is $5 dollars per person with children under the age of 2 being free.
The Highfield Discovery Garden is a mixed media play area. It features some traditional play elements as well as some extra fun.
The Play Structure
The main play structure at Highfield Discovery Graden is a beautiful tree house. I have never seen anything quite like this. It is accessible both by some faux-stone steps as well as a wooden ramp. It features several "nook and cranny" crawl spaces for kids to maneuver through and explore. Despite the entire structure being man-made – it has a very natural feel to it. It felt as if we were really exploring a tree house in the middle of a fairy forest. The children enjoy darting in and out of the "dark caves" undernearth and scaling the small gnome-size steps to reach the very top of the tower. This structure is great for kids starting at age 2. My daughter is just one month shy of 2 and she was able to navigate with the stone steps with minimal assistance.
Trains
This place has an adorable little train set-up featuring some large Thomas the Train engines – similar to the one in Liberty Center. It is a "look, don't touch" attraction. I did see two young children manage their way through the fencing and derail a train – so if your child ever does this – don't sweat it – they weren't the first!!
Exploration
This is the kind of place that truly inspires exploration in children. Recently I've had a difficult time pulling my children away from the playsets to see what else parks have to offer in terms of walking trails or scenic views. That was not a problem at this park. Each turn of a path gives you something new to see – whether it's a miniature fairy village or beautifully maintained landscaping. It's an adventure!
Visibility and Safety
This is really difficult to assess here. It is difficult to keep track of your kid around the tree house area 100% of the time. It is, however, a relatively small area with no immediate dangers so I never felt that cold sweaty feeling that I get at a typical park if I haven't been able to locate my children in 30 seconds. It feels safe. There are a lot of staff members throughout the park. If they do escape the tree area – the entirety of the Discovery Garden is fenced in – so they will not get far.
There is a very very shallow goldfish pond near to the tree house. I'd It is less than half a foot deep.
Water Play
No splash pads here – there is a "cooling zone" with misters which was a hit on a hot day.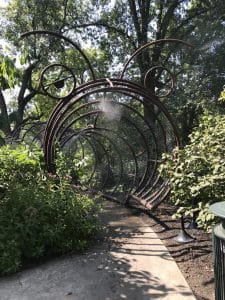 Potty Training
Several well-maintained restrooms available with running water and changing tables.
Parking
Plenty of parking. It is about a five minute walk (toddler pace) from the parking spaces to the entrance of the Discovery Garden. If you have a new walker – bring an umbrella stroller for the walk back.
Picnic
They do not allow you to eat within the gardens. At the very entrance to the gardens, however, there is a little "cafe" area with tables and chairs. You are able to bring a lunch, snacks, drinks and sit there. It's a very well-done area and very comfortable. They even have small tables for kids.
Special Events
Be sure to check Great Parks for their special event calendar –  they have a luminary night walk in September of 2019 that sounds like a good time for all ages.
"Take an enchanted lantern-lit journey through Glenwood Gardens, where the flora and fauna have come to life. Learn about the natural history of Southwestern Ohio's wildlife through first-person interpretation on this 1-mile walk. Along the way, encounter actors who depict the creatures that call this area home.
Hikes depart every 10 minutes and last roughly 1 hour. Enjoy some toasted marshmallows before your group ventures out into the forest."
Final Thoughts
The Highfield Discovery Garden is approximately a 30 minute drive for us. It was worth the drive. We spent about 2 hours exploring the grounds and snacking. If you have a child that is really into fantasy elements such as fairies and dragons – this place is a must visit.  I saw several young girls dressed as princesses.