Makino Park
6100 Kopfler Court, Mason, OH 45040
I'll start by saying this playground is HUGE and this review would be page after page long if I tried to cover every single aspect of this beautifully designed playground. There are so many unique features to discover here. This is the definition of a "destination playground". It is well worth a 30 to 45 minute drive if that's how long it takes you to get to the Mason area.
Oh and guess what? IT IS COMPLETELY 100% FENCED IN and GATED.
Main PlayStructure
The main play structure is large. This one section on it's own is much larger than a lot of playgrounds. It has all of the basic features that we expect on a play structure including slides, stairs, and rock walls but with some unique features as well. Sticking with the adorable bug theme – there's a ladybug rockwall, tunnels to crawl through, raised circular platforms to navigate across, rope walls, and insect themed scavenger hunts. It is completely ramped to allow full accessibility.
Also take a look at those nice shade umbrellas! Definitely a welcome feature at modern playgrounds 🙂
Toddler Play Area
Sometimes toddler areas get the short end of the straw. They can seem like an after thought in the playground design. This is not the case at Makino Park. It is literally enchanting – full of imaginative play elements in addition to traditional playground equipment. There are toddler friendly climbing structures, a small Farmer's Market PlayCafe, slides, and tubes to crawl through. It features bright colors and beautiful butterflies to stick with the overall theme at Makino Park.
Accessibility
The entire idea of Makino Park was to be a fully accessible playground for kids of all abilities to have a place to come together and play. The playground structures are ramped to allow access.
Zipline features have become very popular in parks over the last five years and Makino Park even features an accessible Zipline with a full harness seat for children who may have difficulty with body control on a traditional zipline seat. It is also right next to the "traditional zipline" feature to allow everyone to enjoy together. This isn't a playground with some accessible features thrown in or off to the side – it is 100% built into the very heart of this playground.
Parking
Parking lot is right next to the playground. I have not visited during "peak hours" on a nice day – so I will be curious to see if the parking lot is able to handle the popularity of this park. I will update as I visit more often..
Bathroom/Potty Training
This is the only place where I feel that there is some room for improvement. The bathrooms are very close to the play structure just on the other side of the gate. They are very clean. In the women's restroom, there is a changing table in the accessible stall. My only disappointment with this park was that there are only 2 stalls in the restroom. That doesn't seem like enough for how big and popular this playground is. When a newly potty trained kid has to go, they gotta go. I am not sure two stalls is adequate. But as with the parking, I will see how this goes over the course of the summer.
This picture is taken from the bathroom area so that you can see the distance from the play structure. Not bad at all.
'
Visibility/Safety
This playground is 100% fenced in with a large metal fence that cannot be climbed by children. It is gated with several gates to enter and exit from. It took my 5 year old a bit to figure out how to open it when we arrived so it's enough resistance to keep runners from easily escaping.
This is such a large park with lots of different elements that it is difficult to keep track of multiple kids. If your main concern is escape, the fence situation seems very secure to keep kids out of the parking lot. I did have a few instances where I was with one child but could hear "mommy!!!" from the other side of the playground only to find my younger child stuck halfway up one of the climbing features afraid to continue up or come back down.
Mostly artificial soft ground.
Seating
Great seating options. In between the toddler and big kid section, there is a row of benches. There are also several whimsical seating areas throughout the playground area. Near the restroom, there are a handful of tables under an awning. Lots of grass nearby if you want to bring a picnic blanket.
Unique Features
This entire park is composed of "unique features" and to discuss them all would be impossible. There is something new and different with each turn. I will share some pictures of some of the unique things that really caught my eye and you'll just have to see the rest when you visit the playground!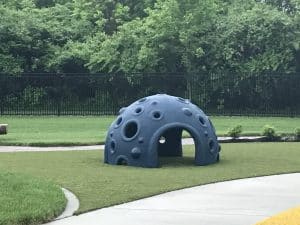 The designers of this playground deserve a round of applause. It is not only a visually stunning playground (whaaat? Feels weird to type that – but it truly is), but it is functional with inclusivity at it's very core. I do see this playground surpassing some of the other trendy playgrounds in terms of recommendations in Facebook groups. It is just beyond impressive.